Although skiing and New Hampshire is a match made in heaven for many, it's not the "be all, end all" for everyone. Even most skiers and snowboarders understand that.
Many NH residents can't think of anything they'd rather be doing after Thanksgiving than hitting the slopes! However not everyone shares the obsession, and while they do love to ski, they want to mix it up a bit!
Here's some ways to get outdoors & enjoy some of the other snow adventures New Hampshire has to offer!
Snowshoeing
With modern, properly fitted gear, snowshoeing can feel as natural as walking. That makes this sub-freezing pastime one of the oldest, and one of the most popular winter activities for fans of the great outdoors. It also means you can do it almost anywhere you can find a well-maintained trail. Sample state parcels ranging from Monadnock State Park in Jaffrey to Bear Brook State Park in Hollis, or federal lands in the White Mountain National Forest.
Snowmobiling
The New Hampshire Snowmobile Association maintains roughly 7,000 miles of dedicated trail throughout the state, so the variety is quite impressive.
New Hampshire Snowmobile Association
Tilton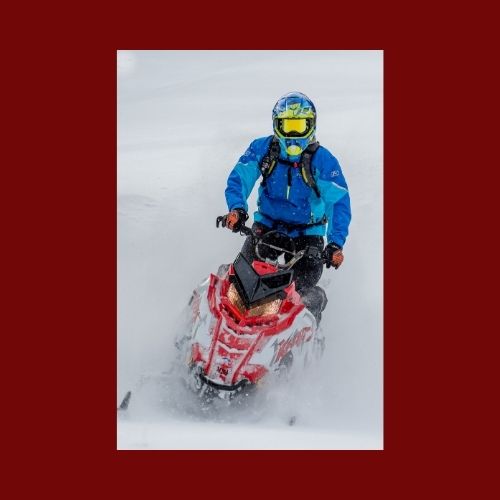 There's also plenty of variety for tours and rentals:
Dalton Motor Sports or Jericho Outdoors in Berlin,
Northeast Snowmobile or White Mountain ATV Rental in Gorham,
Dirt Adventure ATV Rentals, or Bear Brook Adventures or Trailside Rentals in Pittsburg.
Zip-Lining
One of the coolest, and potentially coldest, winter activities in the north country, zip-lining is about as close as most of us will ever come to actually flying. At Bretton Woods, a three-hour canopy offers a unique perspective on the wilds of the White Mountains. The thrilling tree-top experience features a series of nine ziplines and glorious, sweeping views of Mount Washington and the Presidential Range. The longest zip is roughly 830 feet, and more than 165 feet off the forest floor. Not to be outdone, Alpine Adventures to the south offer three zip-line options year-round, including the original Tree Top Canopy Tour, the SkyRider and the Super SkyRider Zipline (with ziplines longer than 1,600 feet, and speeds of up to 60 miles an hour).

Snow Tubing
Whether you're seven or 70, and whether you're riding solo or racing your best buddies, speeding down a track in an inner tube will instantly connect you with your inner child. Seriously, what could possibly be better? You don't need any particular skill or special equipment — just warm clothing, a tube, a long patch of snow and gravity. The big tubes are as comfortable as an over-stuffed Barcalounger, and the tracks are buffed super smooth to keep any drag to a minimum. Many areas offer surface lifts to shuttle you back to the top of the hill, and night lights allow you, and friends and family, to extend your day.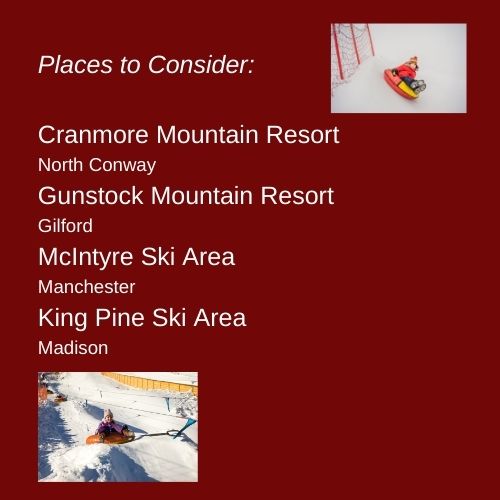 Fat Biking
These bikes, with their low-pressure balloon-like tires, are an absolute hoot in the snow. They'll even roll confidently over ice, provided your tires are equipped with studs. For newcomers, the best option are machined-groomed cross-country ski routes, like you'll find at Great Glen Trails and Outdoor Center in Pinkham Notch (unfortunately, no riding is allowed either up or down the Mt. Washington Auto Road except for Ski, Shoe & Fatbike to the Clouds event held in March) or the Mount Washington Valley Ski Touring Center in Intervale. However, these bikes are incredibly adaptable, and don't require manicured terrain, making a host a trails fair game. Many shops offer rentals and maps of local trail networks. And the New England Mountain Bike Association has several local chapters in New Hampshire that can also provide local information and rides.
Sleigh Rides
A horse-drawn sleigh ride through the snow, snuggled beside your sweetheart, may be the epitome of romance. And it can also be one of the ultimate family winter activities. These rides are a blast day or night!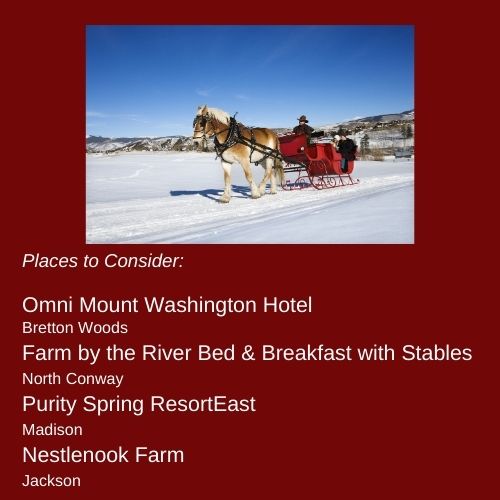 For additional activities & information, please check out the original article at nhmagazine.com
December 23, 2020 by Brion O'Connor
https://www.nhmagazine.com/9-best-options-for-skis-off-fun/