Some days, it can be hard to find the motivation to get to work—especially when your office also happens to be your bedroom, kitchen, dining room, or living room. But the editors of House Beautiful promise it'll be a lot easier to roll up your sleeves and get to work if your home office looks stylish, feels energizing, and promotes productivity, with organizational solutions. The best of them inspire focuss in addition to looking good. Think: ample sunlight, uncluttered surfaces, rejuvenating colors, and actually-comfortable furniture to work on. Whether you've got an entire room or just a tiny corner, they've got inspiration for you!
These are a few of our team's favorite ideas!
Skip the desk
Create an airy, clutter-free space that lacks one notable feature: a desk. "Most files are stored digitally, so bulky office furniture with tons of storage isn't necessary," said Dani Arps–a go-to office designer for New York startups–instead opt for a large, streamlined work table.
Convert any free corner or wall available into a home office by installing extra task lighting (preferably attached to the ceiling or wall to keep surface clutter to a minimum) and a low profile floating desk.
If your work space is cool, you may be more inclined to actually use it. A vintage aluminum desk and stool create an industrial vibe.
Ditch Bulky Furniture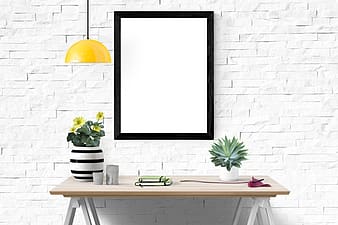 If you have enough storage in your home office thanks to built-ins or a spacious media cabinet, then choose a desk with less drawers and a sleeker, leaner profile instead of a bulkier alternative.
Conceal Clutter With Curtains
If your clutter feeds your creativity, you don't have to get rid of it, you just need to conceal it smartly. Curtains soften the room and hide everyday office papers and books that are stacked up on the shelves.
Minimalism is so hot right now. Keep your desk clutter-free, add in simple furniture, keep a neutral color palette, and watch how inspired you'll be to actually do your work. If you need to warm things up—so it doesn't look bland and sterile—add a plant or macramé wall hanging.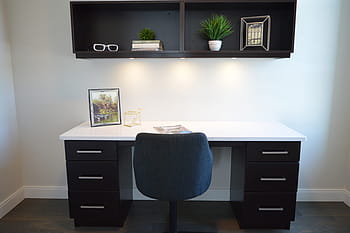 Adapted from: House Beautiful, article by Hadley Mendelsohn & Emma Bazilian, 11/5/2020
https://www.housebeautiful.com/room-decorating/home-library-office