Looking for a great place to enjoy lunch or dinner outside? Here are some favorite outdoor dining spots in greater Manchester as suggested by NH Magazine!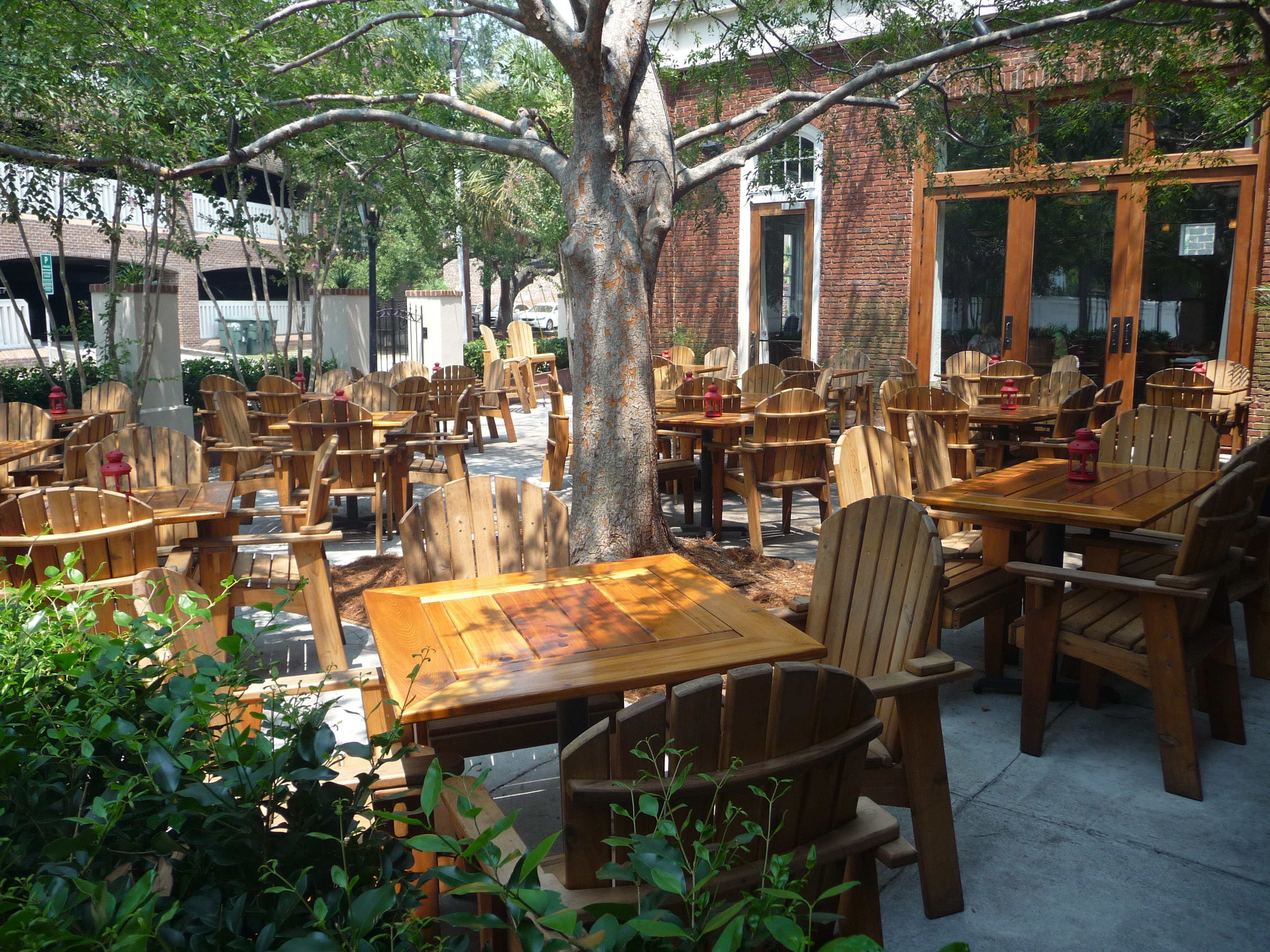 The Foundry in Manchester
Beautiful renovation of former Jillian's spot includes a huge deck with views of the Merrimack River. What to expect: Fine dining in less-formal atmosphere with local sourcing and bar menu that satisfies. Dinner and Sunday brunch only. Weekends can be very busy. Reservations available online.
50 Commercial St., Manchester
(603) 836-1925
The Crown Tavern in Manchester
This affordable gastropub was opened by the team behind the venerable Hanover Street Chophouse. Find a nice range of meals for $20 and under, wood-fired pizzas, an impressive draft list featuring local and regional brews, a reasonably priced wine list and creative cocktails. For groups, order pitchers of beer or cocktails. They've done wonders with the fenced-in patio and lawn — you'll forget you're just steps away from Hanover Street.
99 Hanover St., Manchester
(603) 218-3132
Backyard Brewing & Kitchen in Manchester
The Yard has been turned into Backyard Brewing & Kitchen, serving creative pub fare and their own beer made right onsite. Especially enjoyable is their New England-style IPA Lazy Daze. The renovations include a large deck perfect for enjoying cold beer and bites.
1211 South Mammoth Rd., Manchester
(603) 623-3545
110 Grill in Manchester
There's a lovely, spacious and secluded patio well off of busy Elm Street.
875 Elm St, Manchester
(603) 836-1150
900 Degrees in Manchester
The parking lot views may not be the best, but the restaurant is set well off the street in a quiet spot, which is somewhat of a rarity in downtown Manchester. The long deck is especially lovely at night, when large-bulb string lights create a soft glow. Enjoy a glass of sangria or wine and delicious wood-fired Neapolitan pizza. Open for lunch and dinner, and all seating is first come, first served.
50 Dow St., Manchester
(603) 641-0900
Bolton's Lake House in Kingston
Seasonal, casual dining spot on Great Pond with a good-sized deck outback with a view of the pond and small beach. What to Expect: Boiled lobster dinner, fried seafood and ice cream. Open for lunch, dinner and brunch Thursday through Sunday in spring.
22 Main St., Kingston
(603) 347-1950
CJ's Great West Grill in Manchester
Everything you like about CJ's on a small patio out back. What to expect: You are outside in a big city sipping on a margarita. Smile. Open daily for lunch and dinner.
782 S. Willow St., Manchester
(603) 627-8600
Cotton in Manchester
Find a bit a peace just a few blocks off of Elm Street in Manchester in the small courtyard patio at Cotton. Late in the season, the grape arbor overhead will hang with fruit. What to expect: Great cocktails and American fare with a desire to source locally. Open for dinner Monday through Sunday, lighter fare Monday through Friday and lunch Monday through Friday.
75 Arms Street, Manchester
(603) 622-5488
Fratello's in Manchester
There is pleasant outside dining at the Manchester location off Dow Street with a double-level deck for busy nights. What to expect: It gets very busy on weekends, especially in the summer and on any day during their 4 p.m. happy hour. Open daily for lunch and dinner.
155 Dow Street, Manchester
(603) 641-6776
KC's Rib Shack in Manchester
Darling tiki bar in a private setting is the place to down a beer and get your fingers sticky. What to expect: BBQ. Open for lunch and dinner daily.
837 Second St., Manchester
(603) 627-7427
The Bistro at LaBelle Winery in Amherst
Beautiful patio with distant views of the vineyard, nearby parking and spectacular evening sunsets. Open daily for lunch and dinner, and on Sunday for brunch. What to expect: Interesting menu paired with LaBelle Wines. It's a little taste of Napa Valley.
345 Route 101, Amherst
(603) 672-9898
The Derryfield Restaurant in Manchester
The huge covered deck behind the restaurant has inspiring views of the greens of the golf club. What to expect: Busy weekends with entertainment on the deck.
625 Mammoth Rd., Manchester
(603) 623-2880
The Copper Door in Bedford
The Copper Door, created by Great New Hampshire Restaurants (T-BONES, CJ's Great West Grill), offers upscale yet relaxed dining and a gorgeous terrace.
25 S. River Rd., Bedford
(603) 641-6100
The Patio at the Hilton Garden Inn in Manchester
Batter up! Get here early on game days to enjoy the green fields and the Fisher Cats at play from the patio out back. It seems like part of the ballpark.
101 South Commercial St., Manchester
(603) 669-2222
Wickets on the Green at Hampshire Hills in Milford
Pleasant setting on a deck overlooking the sports club's activities with occasional evening entertainment. What to expect: Wickets is open to the public, but you must sign in at the front desk. Shuffleboard, anyone?
50 Emerson Rd., Milford
(603) 673-7123
11th Hole Bar & Grill, Intervale Country Club in Manchester
The small patio is close to the river and the broad view is very pleasant. What to expect: Lots of golfers on nice days, enjoying the view after a round. Breakfast, pub fare, salad, burgers and sandwiches for lunch.
1491 Front St. in Manchester
(603) 232-2997
Originally published by NH Magazine on May 1, 2018 written by Susan Laughlin