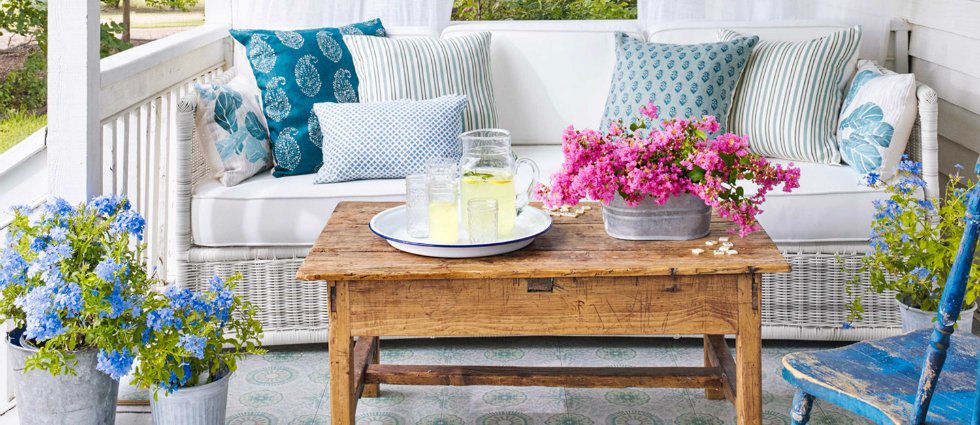 Summer Decorating Means Colorful Outdoor Entertaining
We love summer entertaining, especially when the party moves outside. Choose a comfortable outdoor seating set that encourages conversation and lingering. Bright outdoor pillows and throws for chilly summer nights are a must. If you're creating a space that ties your indoor decor to the outdoors, choose accessories that fit into the color palette you already have in your home.
Switch to a Summer Duvet Cover
A new duvet cover can makeover your bedroom in an instant. Look for light fabrics like linen and cotton for comfortable bedding even when the weather heats up. Beach-inspired patterns and colors (like blue and aqua) are perfect for summer decorating. Even if you aren't embracing a full coastal theme in your home, you can add touches of beach style in any room when you work within your color palette.
Turn Your Porch Into a Summer Party Space
When the weather warms up, we'll look for any reason to be outdoors. If your home is short on space, turn an unused porch into a spot for entertaining or just relaxing. With the right furniture and accessories, your porch can give your small home an extra dining space in warmer months. Giving your front door a color makeover adds extra style to your porch and a decorating focal point for your new outdoor decor.
Add Outdoor Lights for Entertaining Evenings
What fun is summer decorating without string lights? Look to outdoor restaurant and winery spaces for inspiration on lighting your deck or patio. Think of string lights as ambience, instead of task lighting, so that you can add just the right amount to create a magical space. There is a big selection of outdoor string lights available, including colorful and themed options, but classic white bulbs can fit into any decorating style.
Brighten Your Bathroom With a Cheerful New Shower Curtain for Summer
Replacing your shower curtain seasonally is such an easy and inexpensive way to update your bathroom. Properly cleaned, dried, and stored, you can rotate shower curtains in and out every season. For an extra bit of summer decorating magic, have one set of seasonal towels to match with your new shower curtain — this lets you change the mood of your bathroom almost effortlessly.
Try Summer Scents in Your Home
Summer decorating is about more than just the visuals. Tropical and citrusy scents can set the mood for summer in your home. The secret to getting that perfect mix of scents is to choose only a few scents for your home, all in the same product line or brand. Match your candle holders and diffusers to each room for a customized look, even with only one or two scents through your home.
Most summer-inspired decor can be stored away when it's time for autumn decorating. That keeps your decor fresh when the season is back next year!
Adapted from the website: freshome.com/easy-summer-decorating-ideas
by Diane Hathaway, July 10, 2018